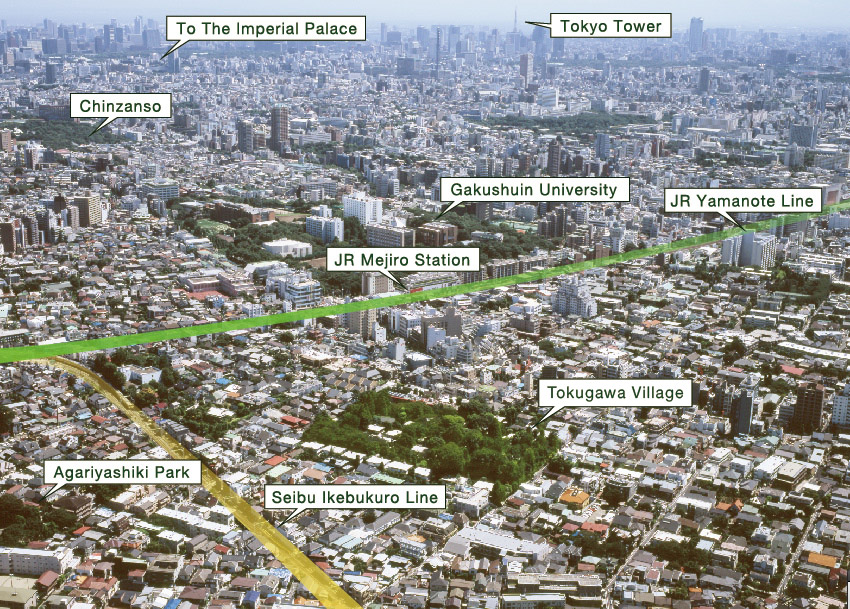 Mejiro - A Historic and Quiet Town
Townscape and Security

Mejiro is known as one of the most prestigious residential areas on the JR Yamanote Line. There are a number of academic institutions such as the Gakushuin University in this small hilly area. Mejiro Bunka Mura, a residential district developed by the Seibu Group is located on the west of JR Mejiro Station, while Tokugawa Village is located on the east, on the site of the former Owari Tokugawa family's residence. Both of the districts have quiet neighborhoods. Streets around the station are lined with banks, shops, and restaurants, but there is no entertainment district, thus ensuring that Mejiro is a safe place to live.

Mejiro - The Town of History and Academics

The name, Mejiro, comes from the Mejiro Fudo Temple which is one of the Five Color Edo Fudo Temples (Goshiki Fudo). In the Edo Period (1603-1868), the residences of daimyo (feudal loads) and hatamoto (direct retainer of the shogun) were built on Mejiro Hill. Since then, the area has historically been home to government officials. The area around the hill is also a high-class residential district where many prestigious houses have been built on the ruins of former nobilities' residences. Mejiro has been known as a town of academics since the Gakushuin University was established as an educational facility for members of the Imperial family and members of the nobility in the Meiji Period (1868-1912).
Neighborhood Facilities
Many amenities can be found around Mejiro station. Ikebukuro is within a 10 min. walk of the village.
Seibu, Tobu, and other major department stores, are accessible toresidents.
Mejiro Station & Mejiro Street Area
JR Mejiro Station

Gakushuin
University

Peacock Store,
Mejiro Branch
Location
Address
Mejiro 3-chome, Toshima-ku, Tokyo
Contact
Sun Realty
TEL: +81-3-3584-6171